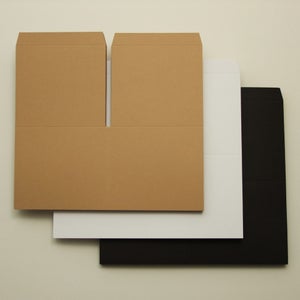 £

17.50
As of January 2017 white DIY CD Cases are back in stock and are now made with 100% recycled 350GSM stock. Black DIY CD Cases are still currently unavailable.
As of June 2015 the card used for the manilla DIY CD Case is a thicker 332GSM card which is 100% recycled, the colour is slightly more brown than before and can be seen in a photo in the making of instructions online on Flickr/Facebook which can be found through The DIY CD Case page
Sent blank and flat the DIY CD Case is ideal for screen printing or customising your next release however you want to. The cases are die cut/creased and available in two different 100% recycled card stocks, 332GSM manilla and 350GSM white.
They can be assembled in a variety of ways, sold as they are they can hold one CD, one CD and an insert or two CDs. You can also use clear adhesive CD hubs available in the shop. Due to the thicker manilla card using a CD tray is a little more difficult but still possible but requires cutting off a panel of the case for the case to lie flat.
For more information, instructions and artwork template check out The DIY CD Case page.
Cases are send via Second Class post so should arrive in 3-5 working days from purchase or you can select the cases plus First Class postage from the drop down menu if you need them sooner (standard shipping is still added at the checkout at £3.70)
For international orders and orders over 100 cases please get in touch with Tom at acdsleeve@gmail.com to sort out postage prices.
If you wish to buy two or more different colours please email me BEFORE you order what breakdown you want, they're sold in packs of 25 only. I'll then let you know what to order. For example if you want 50 manilla and 50 white it works out best for you to order 100 manilla (or white) but email me first with the breakdown so I don't send 100 of one colour, this will save on postage for you and bring the cost per case down.